Efficiency
What is VEINOPLUS® V.I. Technology?
Calf muscles arte considered as a peripheral heart: the Second Heart®
Who can use VEINOPLUS® V.I.?
VEINOPLUS® V.I. relieves symptoms and improves quality of life of people suffering from Venous Insufficiency (VI). The use of VEINOPLUS® V.I. is also recommended for preventing venous risks in the following situations:
Presence of varicose veins

Prolonged sitting or standing (office, long haul travel, standing jobs...)

Lack of physical activity (walking), leg immobilisation

Excessive weight

Pregnancy

Family history of Venous Insufficiency
Why use VEINOPLUS® V.I.?
VEINOPLUS® V.I. is recommended for:
Increase of blood circulation

Improvement of venous return

Reduction of venous stasis

Treatment of symptoms of Venous Insufficiency or Post-Thrombotic Syndrome

Reduction of pain sensations in legs

Reduction of leg swelling (oedema)

Improvement in the healing of venous ulcers

Decrease of restless legs and night cramps
VEINOPLUS® V.I. is NOT RECOMMENDED for people with pacemakers. Do not use VEINOPLUS® V.I. when using an electrical device or driving a car. Keep out of reach of children.
How to use Veinoplus® V.I.

Ensure VEINOPLUS® V.I. is off and nothing appears on the screen.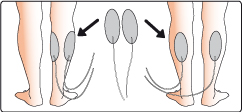 Place both electrodes on one calf or one electrode on each calf if both legs are affected (painful or swollen).

Connect the electrodes.

Turn VEINOPLUS® V.I. on by pressing the button on the center "O".

Press and hold the "+" button until you feel faint vibrations in the calves.

Gradually increase the intensity by briefly pressing the "+" button until you see and feel the deep contractions of the calves. The higher the intensity, the better the treatment with VEINOPLUS® V.I.

If the contractions become too strong and/or uncomfortable, you can reduce the intensity by briefly pressing the button "-".

VEINOPLUS® V.I. will automatically shut off after 30 minutes of treatment. Remove the electrodes by pulling them gently as shown in the photos, to avoid tearing the hair. Replace the electrodes on the plastic shields (on the "ON" face) and store them in the sealed bag provided for that purpose.
When to Use VEINOPLUS® V.I.
Every day, preferably in the evening or in case of painful or swollen legs. Especially recommended for air travel or within 7 days of air travel. Can be used as many times as needed, no risk of overuse. An internal timer automatically stops the device after 30 minutes.